You can learn more about the Plainville campground by reading the 2015 Open House Brochure. You can also learn about the history of the campground by reading our 150th Anniversary Celebration Brochure.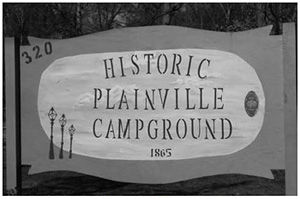 The Plainville Campgrounds is a grouping of 87 architecturally distinct summer cottages on 17 acres of wooded land in central Connecticut. It is in the Town of Plainville, about 30 minutes southwest of Hartford, and is near Farmington and Bristol. Many residents are retired and have winter homes in places such as Florida.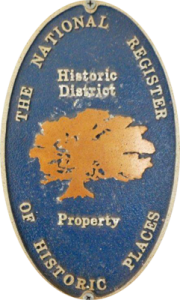 The cottages vary in size from 300 sq. ft. to over 3,000 sq. ft. Most are about 1,000 sq. ft. Owners are permitted to reside at the Campgrounds from May 1st to October 31st each year. We own our cottages and lease the land under our cottages from the Association pursuant to a 25-year lease.
The Plainville Camp Grounds Association is a self-governing, Connecticut Non-Profit Corporation, managed by an 11 member Board of Directors elected by the Members of the Association.
The cottages and other buildings on the Campgrounds are supplied with water by Bristol, CT and the sewer system is provided by Plainville, CT.

Click the image to the left to read a lovely opinion piece published in The Cheshire Citizen about their recent visit to our campground on July 11th.
Additionally, here is a 2015 article published in The Plainville Citizen about the campgrounds' 150th anniversary celebration.