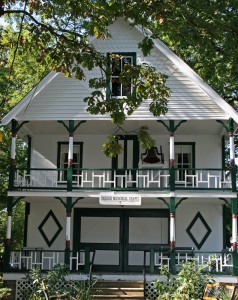 Every Sunday at 3 pm in July and August, we hold interdenominational services in the Parker Memorial Chapel (pictured at right) conducted by local clergy.  All members are expected to attend Chapel Services when they are in the Campgrounds.
We also have a very active Ladies Guild, Wii bowling, whist card games, yoga, Wednesday night pot luck dinners, Friday golf outings, Friday night pizza, bus trips to casinos, and community celebrations on Memorial Day, the 4th of July and Labor Day.
The surrounding area includes grocery stores, building supply stores, golf and tennis clubs, movie theaters, major department and specialty stores, restaurants and other amenities. Hartford, the Berkshires, and the Connecticut shore are all within easy driving distance. Boston and New York City are about 2 hours away.